Welcome to Mounting Solutions
Your experts for innovative photovoltaic mounting systems.
Are you a solar engineer, project developer or wholesaler? Then we are exactly the right company for you. Mounting Solutions is committed to providing innovative, efficient and, above all, sustainable photovoltaic solutions.
Decades of experience have shown us that it is often the smallest components that are essential for the entire project to work, and the best solutions are often surprisingly simple. That is our philosophy at Mounting Solutions.
In addition to our easy-to-mount products, we guarantee a comprehensive service including structural calculations using the MoSo Tool.
We look forward to working with you.
Mounting Solutions


Our Easyspeed mounting systems
Perfect mounting solutions for PV systems
Our modular systems mean that only a few components are required to install a wide variety of mounting systems. The small number of different components allow you to make ideal use of your storage capacities.
High quality and easy, uncomplicated handling of our products are our top priority, and so is fast delivery.
our innovative flat-roof solution for photovoltaic systems.
the ideal substructure for every type of roof cladding
the ideal solution for mounting PV systems on a wide variety of metal roofs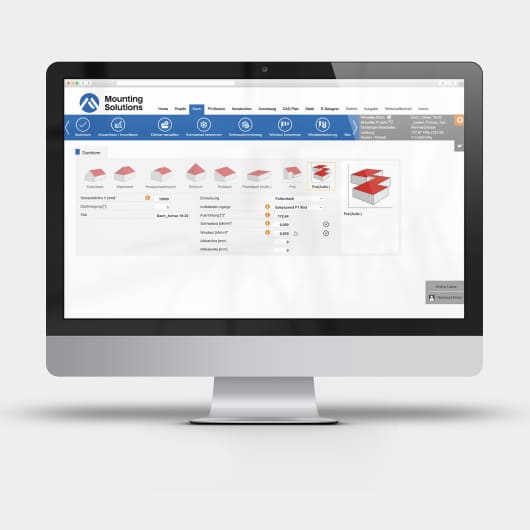 Perfect planning for working and sustainable PV projects
It goes without saying that perfect installation of our mounting systems requires correct planning and structural calculations. For this purpose, we have developed the MoSo Tool. It helps you with calculations and selecting materials and makes step-by-step planning of PV systems easy and easy-to-understand.